DIGITAL ECOSYSTEM
FOR INNOVATION
EDI (Digital Ecosystem for Innovation) is the Digital Innovation Hub of Confcommercio-Imprese per l'Italia, recognized and accredited by the National Business Plan 4.0.
It is the natural point of reference for the entire Confederation on the subject of digital innovation and constitutes the gateway for companies to Digital Transformation: its dense network of Innovation Desks offers innovative services throughout the national territory.
THE DIGITAL TRANSFORMATION IS IN PROGRESS
It involves organizations, companies, individuals. It creates new opportunities but creates new threats. It opens up new markets but creates new competitors.
Everything is changing in the business world.
Production processes, distribution models, payment systems change. Change the way you communicate with customers. Change the way businesses generate value.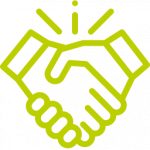 Our mission
is to guide companies and organizations in the paths of Digital Transformation, to make a contribution to the digital, economic and cultural evolution of the Italian system